No squatty-bodied, rough-topped, coarse-made Dorpers here!
Some 12 or 13 years ago we had a handful of Dorper x Suffolk commercial ewes in our flock. We were impressed at the time with their incredible maternal ability and the superior carcass traits of their lambs, but they sure weren't show quality. While those ewes are long gone, we have ever since admired the Dorper breed for its hardiness, natural muscling and efficiency. However, we were never satisfied with the coarse structure and small frame size of the Dorpers we'd seen. That all changed when we saw the sheep being produced by the Texas breeders in recent years since hair sheep classes were added to the Texas majors. They have managed to combine all the qualities we appreciated in the Dorper breed with the bigger frame size and elegance that we so value in our club lamb flock.
It is this model we are following as we build our Dorper flock: Dorpers that are easy and cost effective to raise, yet will finish out at heavier weights and look good doing it!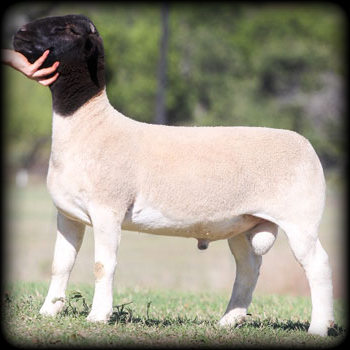 RF 5482 x Taylor Dorpers 111


This guy's foundation genetics are something to be impressed with alone. His sire is the 2011 National Champion Dorper Ram and his dam is one of the most impressive individual females we have laid eyes on. The way this one is put together is something to take note of and strive for. Often you get caught up in breeding for the next great one you forget about keeping them practical. This is where Cheap-Shot excels. He has a great deal of BONE, exceptional feet and legs. Parallel in his lines, ample muscling and extended. Complete sheep that are right down the middle, never go out of style.